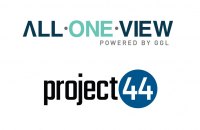 GGL Security partnership with project44 leads to doubling of tracked shipment volumes
LIMERICK, IRELAND: GGL Security has announced a year-over-year increase of real-time tracked transports of 100 per cent after strengthening its arsenal of defense in transportation visibility in partnership with project44, the global leader in supply chain visibility.
GGL is a long-established innovator and leader in the Freight and Logistics Security arena, protecting high-value and time-sensitive goods, mitigating against loss and maintaining the integrity of the supply chain. In recent years, the Irish company developed ​'AllOneView', a revolutionary platform offering full visibility of shipments, with a host of built-in security, compliance, and reporting features such as alerts for any unscheduled stops, route deviations, open-door alerts, panic button activations or missed milestones.
In 2020, GGL Security experienced increased demand for supply chain security with transportation visibility across Europe, with significant volume increases for their services. As Covid-19 cases escalated globally, concern for the supply chain intensified, and demand soared for transportation visibility because of its ability to provide a more holistic view into shipments and bottlenecks of their transportation flows. As a result, GGL is experiencing a 100% year-over-year increase of tracked shipments.
GGL's customers are enthusiastic to gain project44's visibility data through GGL Security:
"GGL Security has consistently offered a comprehensive security solution to third-party logistics providers and hauliers. Their collaboration with project44 means we can onboard and deploy new vehicles quickly and easily, and the AllOneView platform gives us enhanced visibility and reporting of KPIs," said Alan Murnane, Commercial Director at Syncreon.
"I've been working with GGL, and accessing project44's visibility data through GGL, for several years. The comprehensive real-time data is a real need in the market for transport companies and their customers as 3PL and 4PLs. This is a must-have in this industry where transparency is a key factor for every customer," added Sebastiaan Ruiten, Business Development Manager at Van der Valk Transport BV.
The real-time monitoring for AllOneView is made possible by the partnership between GGL Security and project44, the global leader in supply chain visibility, who already has backend connections with tens of thousands of carriers all around Europe, and with almost all telematics providers in Europe, to easily onboard new carriers to their platform if needed.
CEO of GGL Security, Gerry O'Shea, commented, ​"We are very happy to be working in partnership with project44 to continue to deliver a best-in-class service to our customers. GGL Security has specialized in supply chain security for 25 years, and we have continuously raised the bar through the use of the best available technology. Real-time transportation visibility data helps us deliver excellence for our customers. Beyond security, an increasing amount of customers ask us for visibility data to better control and optimize their supply chain operations."
As AllOneView monitors the real time position of each truck – and compares it with the expected route of that specific shipment – it can send automatic alerts when something in the field is not happening as expected, as every truck deviation from the standard route could be a sign of a security issue.
AllOneView has additional advanced capabilities such as the ability to use data from multiple devices (truck and trailer telematics, embedded devices, escort vehicle hardware etc.) on the same shipment, hence offering enhanced levels of visibility and security.
For more information visit www.alloneview.com or www.project44.com.